The Colco Times
Café Colco - Where Tradition Meets Technology
by Joseph Shuttleworth on Aug 01, 2023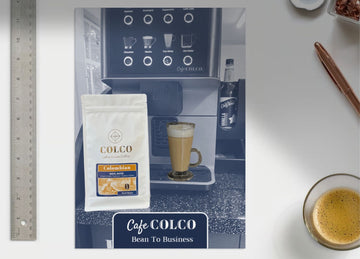 Navigating the vast landscape of coffee can be a challenge but with the right equipment, every cup becomes a masterpiece. Our Café Colco machines are more than just bean to cup machines, they are a promise of consistency, quality, and innovation. Let's delve into how these machines can redefine your coffee journey and fit seamlessly into your business and with our flexible leasing options, partnering with us can be a smart move.

Coffee Tailored to Your Business
La Pequeña:


This compact marvel is a game changer for intimate settings. Designed for up to 50 cups daily, it's a space saver without compromising on the coffee's quality. Its 8oz drink size ensures a satisfying experience, while the 8 drink selections cater to a range of tastes.
La Grande:

A powerhouse for bustling venues, La Grande effortlessly manages up to 200 cups daily. Its 12oz serving size caters to those who crave that extra kick and easily competes with your high street take away coffees without sacrificing on quality. The 7" HD touchscreen offers an interactive experience, and with 12 drink selections, it's a coffee aficionado's dream.

A flavour for all:
Our machines are fine-tuned to accentuate the nuances of every coffee. Whether it's the mellow notes of our Smooth Colombian Coffee or the richness of our Don Jose Dark Roast, there's a symphony in every sip and with options ranging from decaf to an array of latte syrups, there's a possibility for every palette.

Consistency is Key:
Ease of use is at the heart of our packages, with self-cleaning mechanisms and comprehensive training provided, operating these machines is a breeze. The consistent calibration ensures that every drink produced is too the highest standard time & time again.
As one customer review notes, "An unparalleled coffee experience, every single time."

A Commitment to Sustainability:
Every Espresso echoes our dedication to community and sustainability. By choosing Café Colco, you're championing causes that matter, from supporting Colombian farmers to global sustainability initiatives. In conclusion Café Colco's machines are not just equipment, they are a commitment to excellence, innovation, and tradition. By integrating them into your business, you're not only offering a hot drink but you're also contributing to a larger purpose.
Ready to transform every sip into a story? 
Download our Cafe Colco - Bean To Business Brochure