Single Origin Coffee - Salazar Range
If you're a fan of single origin coffees, you'll love the depth of flavor and uniqueness that traditionally roasted single origin beans have to offer.  Unlike mass-produced blends that can taste generic and lack character, traditionally roasted single origin coffees are carefully crafted to highlight the unique flavors and characteristics of the beans. Vietnamese, Honduras, Brazilian, and Ethiopian coffees are all known for their unique flavors and characteristics, and are highly prized by coffee lovers around the world. These single origin coffees are made from either Arabica or Robusta beans, each of which offers a distinct set of flavors and properties. No matter which type of bean you prefer, you can't go wrong with a cup of single origin coffee from Vietnam, Honduras, Brazil, or Ethiopia. Treat yourself to a cup of traditionally roasted single origin coffee today and discover for yourself the depth of flavor and uniqueness that these beans have to offer.
Hand Roasted Coffee - Crafted with Care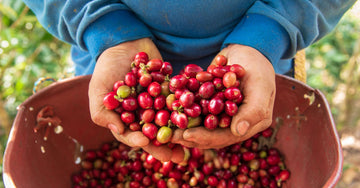 Giving Back to the Community
We are proud to announce that a portion of all coffee sales goes towards supporting various charitable causes around the world. When you purchase our delicious, ethically-sourced coffee, you can feel good knowing that you are not only treating yourself to a premium product, but also making a positive impact on the world. Thank you for choosing to support us and our mission to give back.