The Colco Times
The Best Coffee to use for an Espresso Martini
by Joseph Shuttleworth on Jan 09, 2023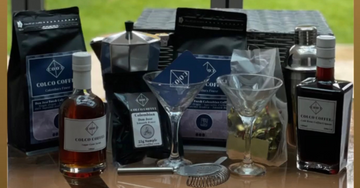 The Best Coffee to use for an Espresso Martini
If you're a fan of espresso martinis, you know that the quality of the coffee can make a big difference in the final flavour of the drink. So, what's the best coffee to use for an espresso martini? The answer is, it depends on your personal taste preference however, we think that our single origin Colombian coffee dark roast is a great choice for an espresso martini and here's why:
First, let's talk about what makes a good espresso martini. The key is to strike a balance between the rich, bold flavour of the espresso and the sweetness of the martini. A dark roast coffee like our single origin Colombian is perfect for this, as it has a robust, full-bodied flavour that can hold its own against the sweetness of the martini mix.
Additionally, our single origin Colombian coffee is sustainably sourced and expertly roasted, ensuring that you're getting a high quality product. This is especially important when it comes to espresso martinis, as the coffee is such a crucial component of the drink.
Now, let's get to the good stuff:
How to make an espresso martini using our single origin Colombian coffee dark roast.
You will need:
Espresso Coffee
Coffee Liqueur
Vodka
Cocktail Shaker
Sugar Syrup
Ice
Coffee beans ( to garnish )
Martini Glasses
Start by brewing a shot of espresso. We recommend using around 1 oz (30 mL)* of espresso per serving. If you don't have a bean to cup machine or espresso machine you can also use a Moka Pot or even a french press/Cafetiere to brew a strong cup of coffee. 30ml coffee equates to roughly a single shot of espresso.
Next, combine the espresso & sugar syrup with your choice of vodka and coffee liqueur (we use kahlua for now while we are secretly working on our own.. Shhh!!) in a shaker filled with ice.
The Ratio we like to use per drink is:
Single shot Espresso: 30ml (1floz)
Single shot Coffee Liqueur: 25ml (1floz)
Double shot Vodka: 50ml (2floz)
One teaspoon of Sugar Syrup
If you are making 2 drinks with a double espresso simply double the vodka and coffee liqueur as follows:
The Ratio we like to use to make 2 espresso martinis:
Double shot Espresso: 30ml (1floz)
Double shot Coffee Liqueur: 50ml (2floz)
2 x Double shot Vodka: 100ml (4floz)
2 teaspoon's of Sugar Syrup
But feel free to adjust to your taste.
Shake the mixture well until it is well chilled and strain into a chilled martini glass.
Garnish with a couple coffee beans and serve immediately.
And there you have it: a delicious espresso martini made with our single origin Colombian coffee dark roast.
We hope you enjoy it as much as we do!
P.S if you like your coffee with an EXTRA kick try making it with our Espresso Comercio coffee which has a higher caffeine content and produces a lovely rich crema.